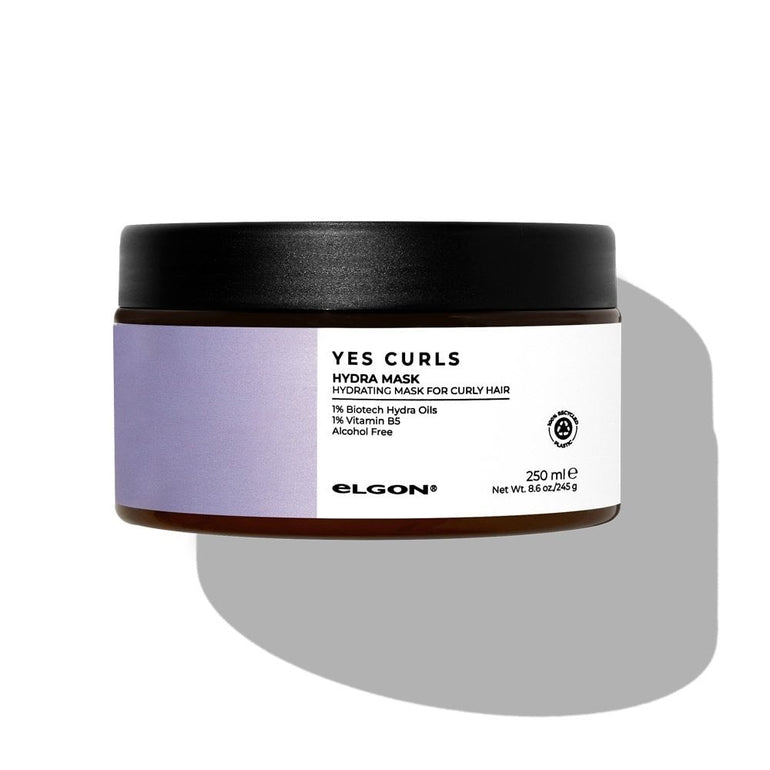 Yes Curl Hydra Masque 500ml
Yes Curls Elgon Hair Mask
Elgon Yes Curls Hydra Mask has been specifically formulated to give the best hydration to fine/normal curls.
Formulated with moisturising Vitamin B5 and Biotech Hydra Oils, this curly hair mask perfectly moisturises curls without weighing them down.
This expert Elgon hair mask for curly hair provides +53% more elasticity while leaving locks bright, full-bodied and incredibly soft.
- 1% Biotech Hydra Oils - a blend of Almond, Olive, Flax and Borage Oils for improved elasticity and softness.
- 1% Vitamin B5 for intense moisturisation and shine.
- Free from silicones, SLS/SLES, mineral oil, wax, phthalate and alcohol.
- Dermatologically tested.
- 100% recycled jar.
- Label made from recycled Ocean Bound Plastic.
How to use:
After cleansing, apply the Hydra Mask to damp hair and leave for 5 minutes. Gently detangle with fingers and rinse thoroughly.
Yes Curl Hydra Masque 500ml
Delivery & Returns
Delivery
We aim to dispatch orders within 24 hours; however, this can vary due to stock availability. We use Parcelforce 48 hour tracked service, subject to all contact details provided are correct, you will get notifications for your delivery. Delivery times are quoted in good faith, and we cannot accept liability for any expenses or other costs incurred due to failed or late deliveries. We accept no responsibility for late, missed, or non-delivered orders as these are carried out by a courier company (Parcelforce) on our behalf.
See our SHIPPING POLICY
Returns
Please email us at sales@ess.hair or call us on 01354 564981 to inform us of your intention to return goods and the reason for the return.
Good bought online should be returned within 14 days of delivery, unused and in their original packaging. If goods are returned in an unsaleable condition, we reserve the right to return these to you.
See our RETURNS POLICY
Faulty, Incorrect or Undelivered Goods
We take great care to ensure all goods you receive are correct and undamaged. In rare cases where incorrect or damaged goods are received (or where goods you expected to arrive haven't) you must inform us within 48 hours of delivery or expected delivery -sales@ess.hairor call us on01354 564981.
See our TERMS & CONDITIONS