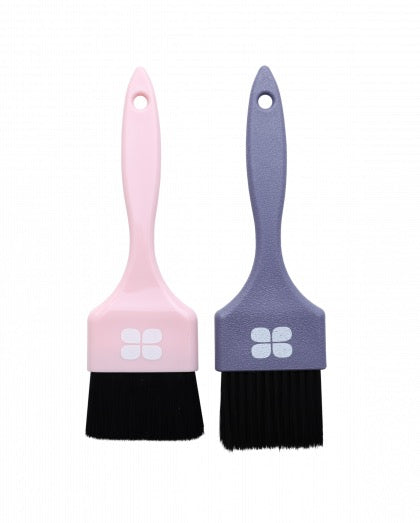 PROCARE PROFESSIONAL HAIR COLOURING BALAYAGE BRUSH – TWIN PACK
Description
Introducing the Procare Professional Hair Colouring Balayage Brush Twin Pack, designed for those seeking flawless balayage results and professional-quality hair colouring. This twin pack features two expertly crafted balayage brushes, each tailored to provide the precision and control needed to achieve the popular and beautiful balayage effect effortlessly.
1. Balayage Blend Brush: Achieve that seamless blend with our specialized Balayage Blend Brush. The soft, feathered bristles are designed to smoothly transition hair colour, creating a natural, sun-kissed look. Ideal for painting freehand and creating a gradient effect, this brush allows for artistic expression and versatility in your balayage techniques.
2. Detailing and Contouring Brush: For the fine details and delicate contours that make your balayage stand out, turn to our Detailing and Contouring Brush. Its narrow, precise bristles make it perfect for defining sections, framing the face, or contouring specific areas. Whether you're refining a gradient or adding dimension, this brush is the tool of choice for achieving a nuanced balayage.
Key Features:
Professional Grade: Our brushes are crafted using high-quality materials, ensuring durability.
Ergonomic Design: The brushes feature an ergonomic handle design, providing a comfortable and secure grip for ultimate control during the application process.
Balayage Perfection: Tailored for balayage techniques, these brushes allow for artistic freedom and the creation of natural, multidimensional hair colour.
Easy to Clean: Designed to be easily cleaned for efficient maintenance, ensuring the brushes are ready for use whenever you need them.
Transform your hair colouring routine and bring out the artist in you with the Procare Professional Hair Colouring Balayage Brush Twin Pack. Elevate your balayage game, achieve stunning, customised results, and enjoy the beauty of balayage.
PROCARE PROFESSIONAL HAIR COLOURING BALAYAGE BRUSH – TWIN PACK
Delivery & Returns
Delivery
We aim to dispatch orders within 24 hours; however, this can vary due to stock availability. We use Parcelforce 48 hour tracked service, subject to all contact details provided are correct, you will get notifications for your delivery. Delivery times are quoted in good faith, and we cannot accept liability for any expenses or other costs incurred due to failed or late deliveries. We accept no responsibility for late, missed, or non-delivered orders as these are carried out by a courier company (Parcelforce) on our behalf.
See our SHIPPING POLICY
Returns
Please email us at sales@ess.hair or call us on 01354 564981 to inform us of your intention to return goods and the reason for the return.
Good bought online should be returned within 14 days of delivery, unused and in their original packaging. If goods are returned in an unsaleable condition, we reserve the right to return these to you.
See our RETURNS POLICY
Faulty, Incorrect or Undelivered Goods
We take great care to ensure all goods you receive are correct and undamaged. In rare cases where incorrect or damaged goods are received (or where goods you expected to arrive haven't) you must inform us within 48 hours of delivery or expected delivery -sales@ess.hairor call us on01354 564981.
See our TERMS & CONDITIONS