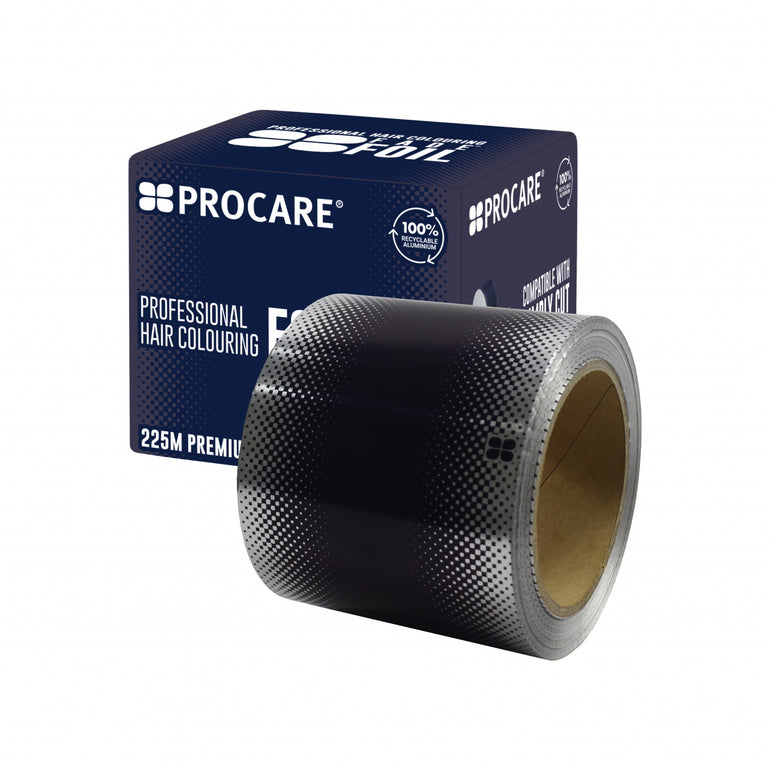 ProCare Coloured Foil 100mm x 225m - Blue
Introducing Procare Premium Red Fade Hair Foil Roll – Elevate Your Hair Colouring Game!
Get ready to revolutionize your hair colouring experience with the Procare Premium Red Fade Hair Foil Roll. A must-have for professionals, this premium foil roll is your key to achieving vibrant, dynamic highlights and making the colour process truly exciting.
Key Features:
Stunning Red Fade Design: Our foil roll features an eye-catching red fade design, adding a touch of style and excitement to your salon or home studio. Say goodbye to dull foil rolls and hello to a pop of colour that sets your work apart.
Generous Size: Measuring an ample 100mm x 225m, our foil roll provides you with an abundance of material to bring your creative hair colouring ideas to life. You will have all the foil you need to create beautiful highlights, lowlights, and unique colour designs.
Premium-Quality Material: Crafted from salon-quality aluminium, our foil guarantees optimal performance. Its durability and flexibility ensure that you can achieve precise and even colour application every time.
User-Friendly Design: The Procare Premium Red Fade Hair Foil Roll is designed for convenience. It tears smoothly and is easy to handle, making it suitable for both experienced professionals and those new to hair colouring.
Professional-Grade Results: With this foil roll, you will consistently achieve quality results. Ensure each strand is perfectly covered and leave your clients or yourself with striking, dynamic hair colour.
Versatile Application: Whether you are looking to create classic highlights, experiment with balayage, or explore ombre effects, this foil roll is perfect for any colour technique. Let your imagination run wild and bring your artistic visions to life.
Cost-Efficient: With a generous amount of foil on each roll, you will save money in the long run by reducing the need for frequent replacements.
Eco-Conscious Choice: We care about the environment. Our foil is easily recyclable, making it a responsible choice for your styling needs.
Elevate your hair colouring game with the Procare Premium Red Fade Hair Foil Roll and transform ordinary hair into a canvas of creativity. Whether you are a seasoned stylist or a DIY enthusiast, our foil roll is your ideal partner for creating captivating hair colours that leave a lasting impact.
Make the exciting choice today and get your Procare Premium Red Fade Hair Foil Roll. Embark on a journey of creativity and excellence in hair styling – your clients and your hair will thank you for it.
ProCare Coloured Foil 100mm x 225m - Blue
Delivery & Returns
Delivery
We aim to dispatch orders within 24 hours; however, this can vary due to stock availability. We use Parcelforce 48 hour tracked service, subject to all contact details provided are correct, you will get notifications for your delivery. Delivery times are quoted in good faith, and we cannot accept liability for any expenses or other costs incurred due to failed or late deliveries. We accept no responsibility for late, missed, or non-delivered orders as these are carried out by a courier company (Parcelforce) on our behalf.
See our SHIPPING POLICY
Returns
Please email us at sales@ess.hair or call us on 01354 564981 to inform us of your intention to return goods and the reason for the return.
Good bought online should be returned within 14 days of delivery, unused and in their original packaging. If goods are returned in an unsaleable condition, we reserve the right to return these to you.
See our RETURNS POLICY
Faulty, Incorrect or Undelivered Goods
We take great care to ensure all goods you receive are correct and undamaged. In rare cases where incorrect or damaged goods are received (or where goods you expected to arrive haven't) you must inform us within 48 hours of delivery or expected delivery -sales@ess.hairor call us on01354 564981.
See our TERMS & CONDITIONS