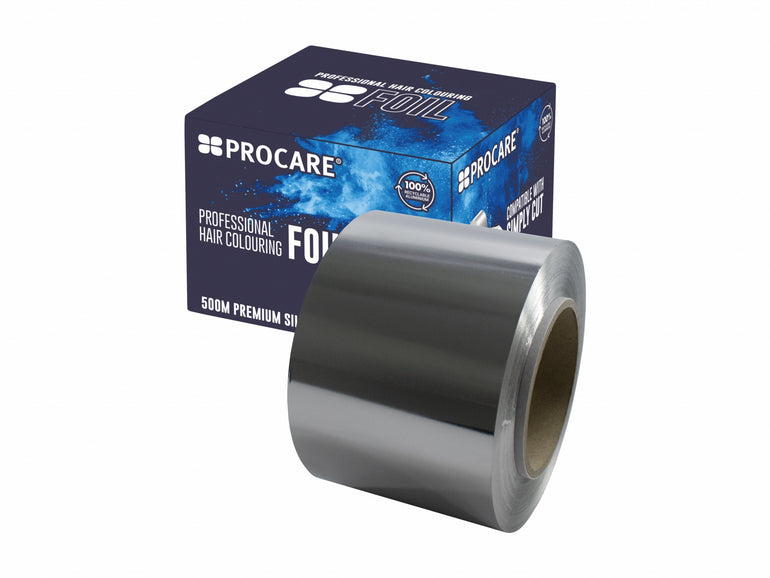 PROCARE PREMIUM SILVER HAIR FOIL ROLL 100MM X 500MTR
Description
Introducing Procare Premium Silver Hair Foil Roll – Your Ultimate Ally for Impeccable Colouring Results!
Discover the Procare Premium Silver Hair Foil Roll, a trusted companion for professional hairdressers in salons worldwide. This versatile 100mm x 500mtr foil roll combines strength and flexibility, making it the ideal choice for all colouring techniques, including highlighting. Paired with our innovative Simply Cut Dispenser, it becomes the perfect tool for streamlining your salon's colour preparation process.
Key Features:
Strength Meets Flexibility: Our premium silver hair foil is expertly crafted to offer a winning combination of strength and flexibility. This ensures that it is easy to work with and can withstand the demands of various colouring techniques.
Unleash Your Creativity: Whether you are a master of classic colouring or an innovator of the latest trends, this foil roll is versatile enough to support all your artistic endeavours. Achieve the stunning results you envision with confidence.
Salon-Ready Efficiency: Designed with salon use in mind, this foil is the perfect choice to maintain a professional and organized workspace. The compatibility with the Simply Cut Dispenser ensures precise, hassle-free foil cutting, saving you time and effort.
Premium Quality Assurance: Crafted with the utmost care and attention to detail, our foil maintains its integrity throughout the entire colouring process. It is reliable and durable, ensuring your colour application remains seamless.
Enhanced Visibility: The silver foil adds a touch of sophistication to your work area, making it easier to monitor colour placement and ensuring every detail is perfect.
Elevate your salon experience and achieve flawless results with the Procare Premium Silver Hair Foil Roll. It is not just foil; it is a testament to your commitment to providing top-quality hair services to your clients.
Join the ranks of professional stylists worldwide who rely on Procare for their hairdressing needs. Revolutionize your salon's colour preparation process and give your clients the incredible hair they deserve.
PROCARE PREMIUM SILVER HAIR FOIL ROLL 100MM X 500MTR
Delivery & Returns
Delivery
We aim to dispatch orders within 24 hours; however, this can vary due to stock availability. We use Parcelforce 48 hour tracked service, subject to all contact details provided are correct, you will get notifications for your delivery. Delivery times are quoted in good faith, and we cannot accept liability for any expenses or other costs incurred due to failed or late deliveries. We accept no responsibility for late, missed, or non-delivered orders as these are carried out by a courier company (Parcelforce) on our behalf.
See our SHIPPING POLICY
Returns
Please email us at sales@ess.hair or call us on 01354 564981 to inform us of your intention to return goods and the reason for the return.
Good bought online should be returned within 14 days of delivery, unused and in their original packaging. If goods are returned in an unsaleable condition, we reserve the right to return these to you.
See our RETURNS POLICY
Faulty, Incorrect or Undelivered Goods
We take great care to ensure all goods you receive are correct and undamaged. In rare cases where incorrect or damaged goods are received (or where goods you expected to arrive haven't) you must inform us within 48 hours of delivery or expected delivery -sales@ess.hairor call us on01354 564981.
See our TERMS & CONDITIONS