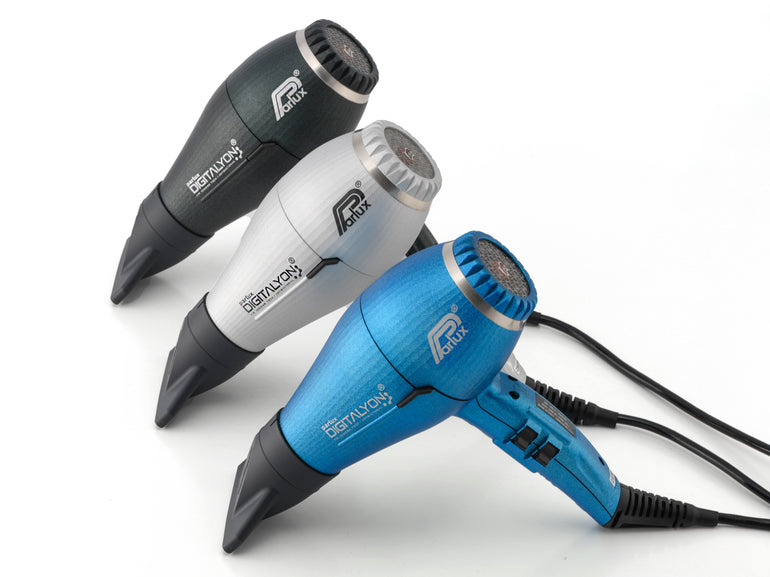 Parlux Digitalyon hairdryer - Anthracite
Parlux DIGITALYON hair dryer, the first Parlux to feature their revolutionary, new digital motor. The result is lighter, quieter and much faster styling, leaving hair perfectly smooth and shiny.
The innovative digital E-LYON motor is truly at the cutting edge of current technology. The advanced design provides incredible power with a concentrated air flow of 88m3/h, reducing drying time whilst protecting the hair. The digital motor is extremely quiet and the integrated acoustic silencing system ensures sound levels are kept to a minimum.

Frizzy hair is a thing of the past, thanks to the Air Ionizer Tech which optimises the emission of negative ions and combines with the integrated ceramic grill to ensure sleek, beautiful hair. A new-wave heating element with variable geometry has increased the power of the Parlux DIGITALYON hair dryer to 2400 watts, whilst maintaining a uniform heat distribution. Add in the newly designed straightening nozzle and the outcome is stunningly smooth blow drys time after time.
The ergonomic design of the DIGITALYON and the unbelievably light weight offers perfect balance and hours of use without fatigue or pain. The dryer also features Parlux's patented Hair Free system to trap stray hairs before they enter the motor. In conjunction with the stylish new filter, this ensures that less dirt can enter the dryer whilst performance remains unbeatable.
Parlux Digitalyon hairdryer - Anthracite
Delivery & Returns
Delivery
We aim to dispatch orders within 24 hours; however, this can vary due to stock availability. We use Parcelforce 48 hour tracked service, subject to all contact details provided are correct, you will get notifications for your delivery. Delivery times are quoted in good faith, and we cannot accept liability for any expenses or other costs incurred due to failed or late deliveries. We accept no responsibility for late, missed, or non-delivered orders as these are carried out by a courier company (Parcelforce) on our behalf.
See our SHIPPING POLICY
Returns
Please email us at sales@ess.hair or call us on 01354 564981 to inform us of your intention to return goods and the reason for the return.
Good bought online should be returned within 14 days of delivery, unused and in their original packaging. If goods are returned in an unsaleable condition, we reserve the right to return these to you.
See our RETURNS POLICY
Faulty, Incorrect or Undelivered Goods
We take great care to ensure all goods you receive are correct and undamaged. In rare cases where incorrect or damaged goods are received (or where goods you expected to arrive haven't) you must inform us within 48 hours of delivery or expected delivery -sales@ess.hairor call us on01354 564981.
See our TERMS & CONDITIONS