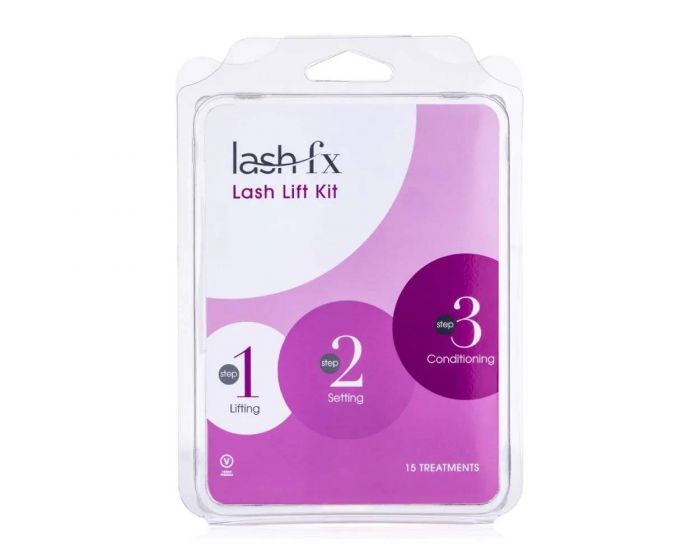 Lash FX Lash Lift Mini Kit
The Lash FX Lash Lift Mini Kit contains the essential products to perform the popular lash lifting treatment. The lash lift lasts up to 6 - 8 weeks and is a client favourite.
Expertly developed vegan formulas make up the 3-step system for lash lifting (sometimes referred to as lash perming or LVL).
Lifting Cream Step 1 is applied to lashes after they have been lifted onto the Lifting Rods with the Fixing Adhesive. Step 1 enables the first stage of the lifting process, breaking down the structure of the hair so it can be moulded into its new shape with Setting Cream Step 2.
The second stage of this process uses the Setting Cream - this is used to rebuild the hair and fix it into its new position around the Curling Wands.
Conditioning Cream Step 3 is used to nourish the lashes, conditioning them after the treatment.
Allergy alert testing may be required - please check the conditions of your insurance.
For professional use.
Contains the essential products for lash lift treatments.
Quick lash lift treatment with improved development times.
3-step system for beautiful results which last up to 6-8 weeks.
Vegan solutions with high-quality ingredients.
Lifting rods give two curl options - a natural curl or dramatic curl, depending on how the rods are placed on the eyelid.
Lash FX Lash Lift Mini Kit
Delivery & Returns
Delivery
We aim to dispatch orders within 24 hours; however, this can vary due to stock availability. We use Parcelforce 48 hour tracked service, subject to all contact details provided are correct, you will get notifications for your delivery. Delivery times are quoted in good faith, and we cannot accept liability for any expenses or other costs incurred due to failed or late deliveries. We accept no responsibility for late, missed, or non-delivered orders as these are carried out by a courier company (Parcelforce) on our behalf.
See our SHIPPING POLICY
Returns
Please email us at sales@ess.hair or call us on 01354 564981 to inform us of your intention to return goods and the reason for the return.
Good bought online should be returned within 14 days of delivery, unused and in their original packaging. If goods are returned in an unsaleable condition, we reserve the right to return these to you.
See our RETURNS POLICY
Faulty, Incorrect or Undelivered Goods
We take great care to ensure all goods you receive are correct and undamaged. In rare cases where incorrect or damaged goods are received (or where goods you expected to arrive haven't) you must inform us within 48 hours of delivery or expected delivery -sales@ess.hairor call us on01354 564981.
See our TERMS & CONDITIONS