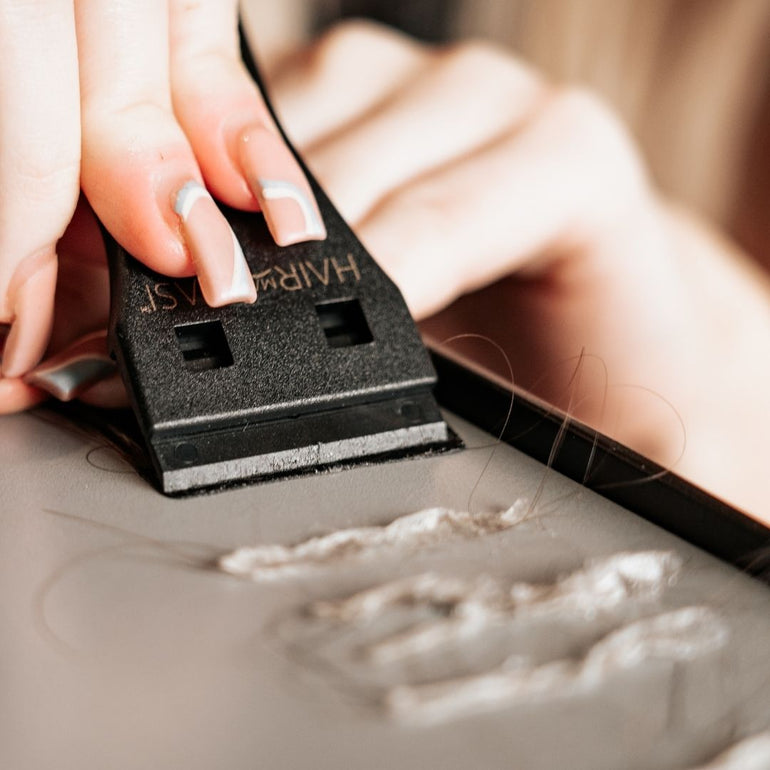 The World's No.1 Tape Tab Removal Kit – Say Goodbye to Sticky, Messy Tape-In Hair Extension Removal and Refitting!
If you work with tape-in hair extensions, you will know how stressful and sticky removal and refitting can be. Designed by hair extension professionals, the Tapes Made Easi Kit is here to take away all these problems and allow you to enjoy working easily with tape-in hair extensions.
Your Benefits:
No more sticky fingers and nails: using the specially designed board, you will remove any adhesive from the tape tab using the tape scraper, never having to touch the adhesive strip.
Fast and clean tape-in hair extension removal and refitting: speed up your services using the Tapes Made Easi Kit. Quickly and cleanly remove any adhesive from the tape header, saving you time and mess! For the ultimate re-tape experience, use Easitape Hair Extension Tape Tabs and Hair Extension Remover.
Easy to clean: Simply scrape away the tape, re-tape, and clean your board and you are ready to go. This allows you to fit your clients in for tape maintenance appointments in one sitting.
Unique Features:
Specially designed scraper: created to protect the integrity of tape hair extensions with zero damage when removing adhesive.
Curved edge to prevent sliding: the Tapes Made Easi board is made from heavy duty stainless steel, with unique curved edge design and rubber base fixings to give the most secure, flat working area when scraping adhesive off.
Scratch resistant coating: created using premium quality powder coating and available in gold or silver.
Portable for use on any flat surface: with no assembly required, the Tapes Made Easi kit is easy to position and quick to use.
Delivery & Returns
Delivery
We aim to dispatch orders within 24 hours; however, this can vary due to stock availability. We use Parcelforce 48 hour tracked service, subject to all contact details provided are correct, you will get notifications for your delivery. Delivery times are quoted in good faith, and we cannot accept liability for any expenses or other costs incurred due to failed or late deliveries. We accept no responsibility for late, missed, or non-delivered orders as these are carried out by a courier company (Parcelforce) on our behalf.
See our SHIPPING POLICY
Returns
Please email us at sales@ess.hair or call us on 01354 564981 to inform us of your intention to return goods and the reason for the return.
Good bought online should be returned within 14 days of delivery, unused and in their original packaging. If goods are returned in an unsaleable condition, we reserve the right to return these to you.
See our RETURNS POLICY
Faulty, Incorrect or Undelivered Goods
We take great care to ensure all goods you receive are correct and undamaged. In rare cases where incorrect or damaged goods are received (or where goods you expected to arrive haven't) you must inform us within 48 hours of delivery or expected delivery -sales@ess.hairor call us on01354 564981.
See our TERMS & CONDITIONS