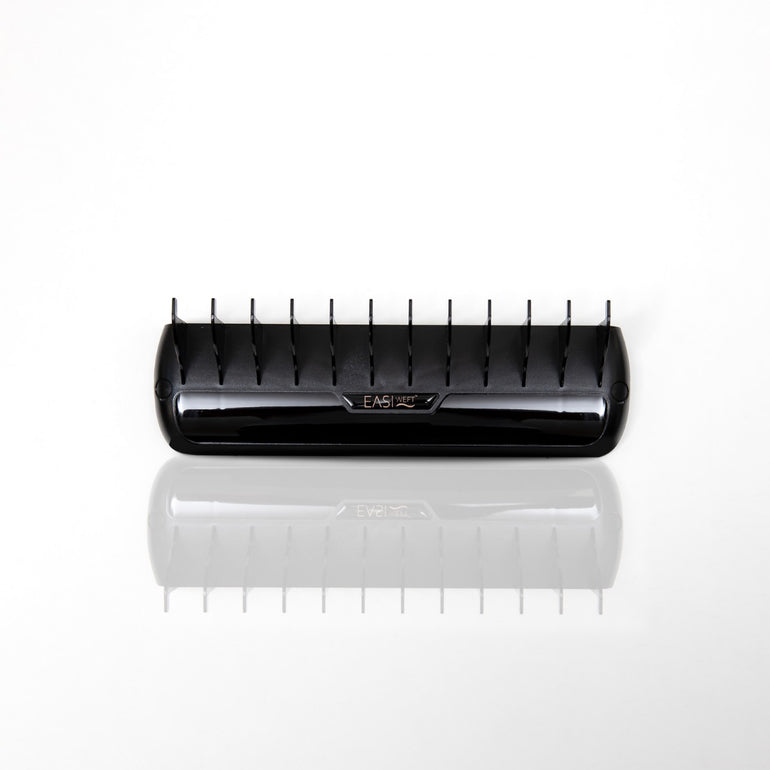 Hair Made Easi - Easiweft
Whether you are a hair professional working with wefts, clip-ins and tapes, or a clip-in hair extension wearer looking to style and care for your hair extensions at home, the versatile Easiweft hair extension holder is the extra pair of hands you need!
Your Benefits:
Make it easier to work with extensions:with both hands free thanks to the Easiweft hair extension holder, you'll be able to work more easily because it provides a stable surface to hold your extensions. Not only for application! Use your Easiweft to keep hair extensions organised when washing, styling, colouring and prepping.
Quicker application:Save up to 30 minutes as the Easiweft allows you to keep your extensions organised and easily accessible.
Help to keep your workstation organised: keep your workstation organised for easy access to your equipment. Free up your workspace for quicker tool access with all your hair extensions arranged on the Easiweft.
Unique Features:
Protects hair extensions from damage: injection moulded from the highest-grade ABS plastic, the Easiweft is designed to be kind to hair. The ultra-smooth surface of the comb allows hair to be organised with zero damage and tangling.
Ergonomic: perfectly angled comb design to offer easy access to load and unload hair extensions, with enough space to hold the largest full head of hair extensions comfortably and securely.
Super strong grip: with a choice of suction cups for ease of attaching and detaching between uses or using the adhesive fixings for a more permanent positioning, the Easiweft can hold weights up to 2kg.
Hair Made Easi - Easiweft
Delivery & Returns
Delivery
We aim to dispatch orders within 24 hours; however, this can vary due to stock availability. We use Parcelforce 48 hour tracked service, subject to all contact details provided are correct, you will get notifications for your delivery. Delivery times are quoted in good faith, and we cannot accept liability for any expenses or other costs incurred due to failed or late deliveries. We accept no responsibility for late, missed, or non-delivered orders as these are carried out by a courier company (Parcelforce) on our behalf.
See our SHIPPING POLICY
Returns
Please email us at sales@ess.hair or call us on 01354 564981 to inform us of your intention to return goods and the reason for the return.
Good bought online should be returned within 14 days of delivery, unused and in their original packaging. If goods are returned in an unsaleable condition, we reserve the right to return these to you.
See our RETURNS POLICY
Faulty, Incorrect or Undelivered Goods
We take great care to ensure all goods you receive are correct and undamaged. In rare cases where incorrect or damaged goods are received (or where goods you expected to arrive haven't) you must inform us within 48 hours of delivery or expected delivery -sales@ess.hairor call us on01354 564981.
See our TERMS & CONDITIONS